The initial design of any manufactured part is critical to its performance. And as the complexity of customer applications grows, there's an increased need for custom-designed parts.
R&T Mechanical has a talented in-house team of designers with CSWP certifications to support many clients across varied industries. Our experience in designing a wide range of mechanical, structural, and safety solutions delivers not only optimized performance but also cost savings in the form of more durable parts with fewer repair and replacement needs.
From Concept to Completion
From product design and fabrication to assembly and installation, our capabilities make it easy to take most any project from concept to completion. And because we manage the entire process in-house, we can confidently deliver a quality product for your application.
Reverse Engineering
Do you need to improve upon an existing part or remake an old part? Our reverse engineering services give you a long-term solution to fit your specific needs. Our team will examine your product or component in detail and deliver a 3D design to help optimize the part and the manufacturing process behind it.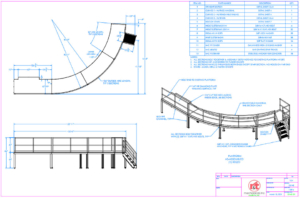 Design Services At-A-Glance
Expert In-House Design Department
Custom Solutions
Reverse Engineering Services
SOLIDWORKS 3D Modeling
AutoCAD Software/Drawings
Concept to Completion