In 2022, a leading spray drying manufacturer needed a new spray drying system installed. The U.S.-based company provides toll manufacturing and custom spray drying for the food and non-food industries.
When looking for a mechanical contractor for the system installation, our client was unable to find a qualified partner that could meet their schedule and deliver the specified product.
They eventually reached out to R&T to discuss the job scope and see if our capabilities could support the project. After reviewing the client's blueprints and verifying field measurements on the required steel work, we confirmed our team had the resources to manage the project from start to finish.
Installation of the new spray drying system included:
Setting all structural steel work
Installing safety railing and steps
Setting the spray drying silo and baghouse
Installing all processing duct work
R&T was able to quickly resolve issues that arose during the installation phase. We successfully reworked some of the stainless steel food grade processing duct work, and reworked structural steel parts that were not properly fabricated by the original manufacturer.
The project was completed on time and within budget. Our client was very satisfied with the outcome, and we're in the process of installing a new blending line at their facility.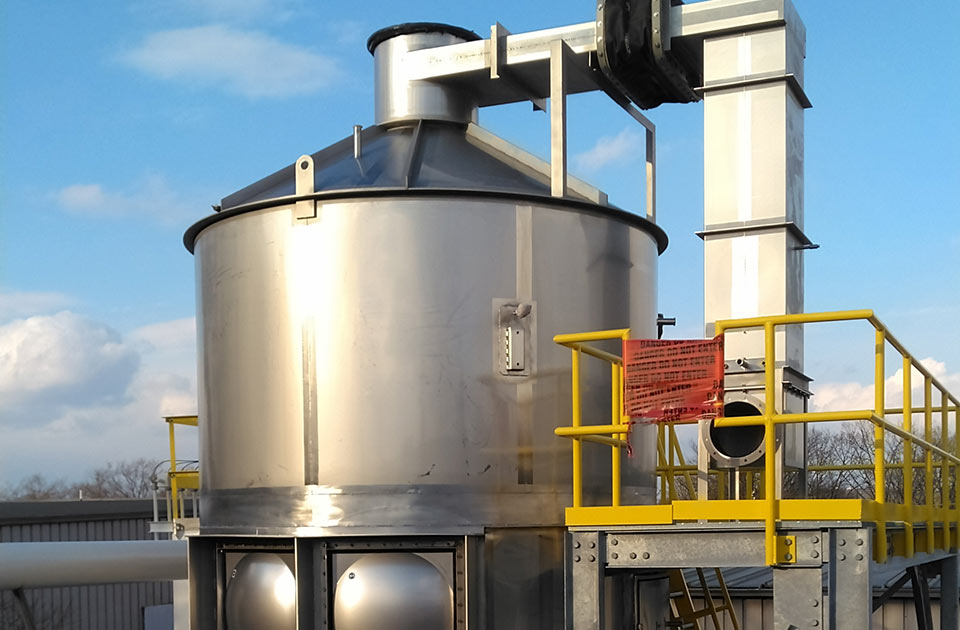 Project Type: Spray Drying System Install
Location: Mountain Top, PA
Services Provided:
Full Installation of New Spray Drying System
Structural Steel Fabrication
Safety Railing, Steps Install
Processing Duct Work Install
Crane Rental (15-ton/70-ton high reach)